Towards
Carbon neutrality
Climate change is a profound, systemic challenge—not in the future, but right here, right now. Danone is meeting this challenge head on by aligning to Science-Based Targets and committing to zero net carbon emissions by 2050.
Citizens today want companies to take a leading role in combatting climate change. Danone is determined to help lead an industry-wide transition to a low-carbon economy; this is why we pledged in our 2015 Climate Policy to become carbon neutral by 2050 across our full value chain. Our zero net carbon commitment means that we are responsible for the carbon emissions from the farms where we source our ingredients to the facilities that manage packaging once our products are consumed.
Danone's strategy to achieve carbon neutrality is based on the following pillars: reducing emissions, transforming agricultural practices to sequester more carbon in the ground, eliminating deforestation from our supply chain, and offsetting the emissions that remain.
Emissions reduction targets validated by the Science-Based Targets initiative
Our first priority is to reduce carbon emissions on the three categories defined in the GHG Protocol Corporate Standard: scopes 1, 2 and 3. See here for further information about those scopes.
As part of our journey towards carbon neutrality, we set intermediate carbon reduction targets for 2030, from a 2015 baseline :
to reduce scope 1, 2 and 3 emission intensity by 50%.
to achieve a 30% absolute reduction of scope 1 and 2 emissions.
Both targets were officially approved by the Science-Based Targets initiative in 2017 as being in line with the global measures necessary to keep global warming below 2° C, making Danone one of the first 100 companies to align its carbon reduction trajectory with the Paris Agreement.
In September 2019, we strengthened our commitments through the signature of Business Ambition for 1.5°C pledge. This new ambition represents a significant acceleration of Danone's GHG emission reduction targets, across scope 1, 2 and 3.
What are Science-Based Targets?
The Science-Based Targets initiative is a non-profit initiative led by the CDP, the World Resources Institute, the World Wildlife Fund and the United Nations Global Compact.
It helps companies to set and validate reduction targets in line with what climate science says, which is necessary to keep global warming below 1.5 degrees Celsius.
Our current progress and next steps
To build on our current progress, we are targeting two main levers for action : renewable electricity and regenerative agriculture.
Danone is part of RE100 — a collection of the companies that have committed to using 100% renewable electricity. We are aiming to reach 50% of renewable electricity by 2020, and 100% by 2030.
57% of Danone's carbon emissions are linked to agriculture, making it a key lever of reduction. At COP23 in 2017, Danone announced its intention to sharpen its focus on regenerative agriculture, our term for a combined set of practices that strengthen agricultural resilience and put in place low-carbon practices. Danone see regenerative agriculture as resting on three pillars:
protecting soil, water and biodiversity,
empowering a new generation of farmers,
promoting animal welfare.
Keeping carbon in the ground
Agriculture is not just a way to reduce carbon emissions but also actually take CO2 out of the atmosphere by sequestering it in the ground. By transitioning to regenerative agriculture practices, like keeping roots in the soil rather than tilling, our producers can improve soil health, which in turn will help keep carbon in the ground.
Danone is stepping up its support for regenerative agriculture practices. In 2017, we joined the 4 per 1000 initiative, an international platform to catalyze cooperation on soil health and soil carbon sequestration.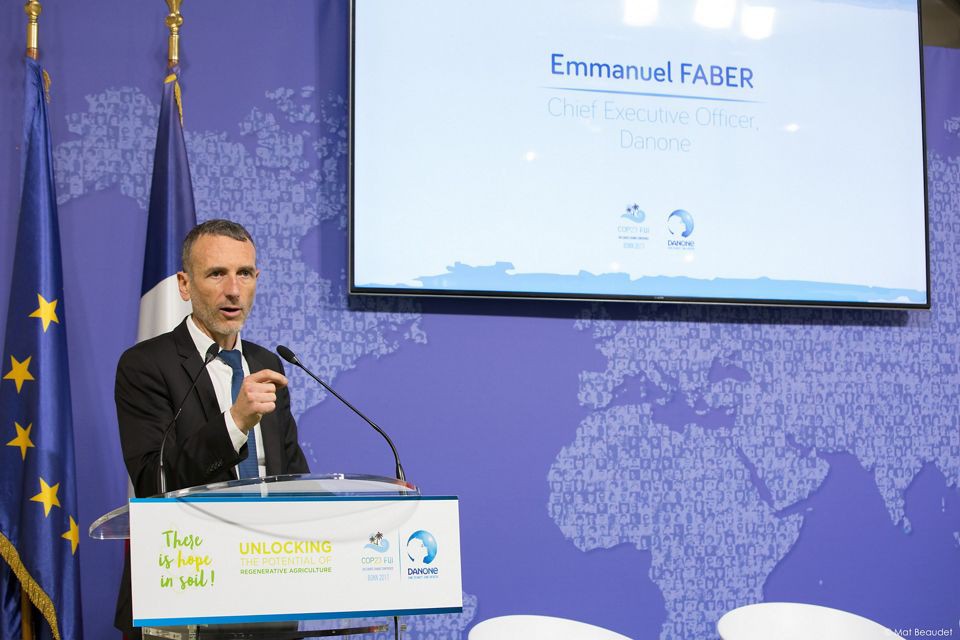 In November 2017, Danone previous CEO Emmanuel Faber announced at the COP 23 in Bonn that Danone would be joining the 4 per 1000 initiatives and sharpening its focus on regenerative agricultural practices as a means to reduce carbon emissions in its value chain.
In 2018, Danone North America launched a soil health initiative in partnership with experts from The Ohio State University and Cornell University, which will identify ways to help regenerate soils and increase soil carbon sequestration. Danone North America will commit up to $6 million to research over the next five years as part of this initiative.
Danone France issued its own ambition to source 100% of ingredients produced in France from regenerative agriculture by 2025, and announced it would be donating one day of sales turnover (or around 5 million euros) to support farmers in transitioning to this model. Working with partners such as the Fermes Laitières Bas Carbone, Danone France aims to reduce its carbon footprint 15% by 2025.
In 2019 we launched, at the UN General Assembly, the OP2B < One Planet Business for Biodiversity >, a business coalition bringing together companies that share strategic interests in agriculture and recognize the urgent need to act. The nineteen OP2B member companies have committed to take tangible actions, on an individual and collective basis, to develop innovative solutions aimed at protecting and enhancing biodiversity in agricultural systems, including: scaling up regenerative agriculture practices to protect soil health; developing product portfolios to boost cultivated biodiversity and increase the resilience of the food and agriculture models and eliminating deforestation, enhancing the management, restoration and protection of high value natural ecosystems.
Eliminating deforestation
Deforestation is responsible for approximately 15% of all carbon emissions, making it a major driver of climate change. Danone is committed to eliminating deforestation from its supply chain by end of 2020. We signed the New York Declaration on Forests, and also support the Consumer Goods Forum (CGF) resolution to achieve zero net deforestation in key commodity sectors by 2020.
To meet our zero deforestation commitment, we have set standards for key commodities such as palm oil, soy, timber, sugar, paper and board. To date, see our 2019 Forest Policy update for more information.
As we work for a carbon neutral future, we are committed to compensating for our remaining carbon emissions in a way that can also improve lives in the most vulnerable communities around the world by restoring the ecosystems they rely on for their sustenance.

Along with nine other corporate partners, we invest in the Livelihoods Carbon Funds to support projects for agroforestry, mangrove restoration, and fuel-efficient cooking tools for communities in Asia, South America, and Africa. Projects are monitored over up to 20 years, requiring a long-term commitment from the investor companies in the Livelihoods Carbon Fund.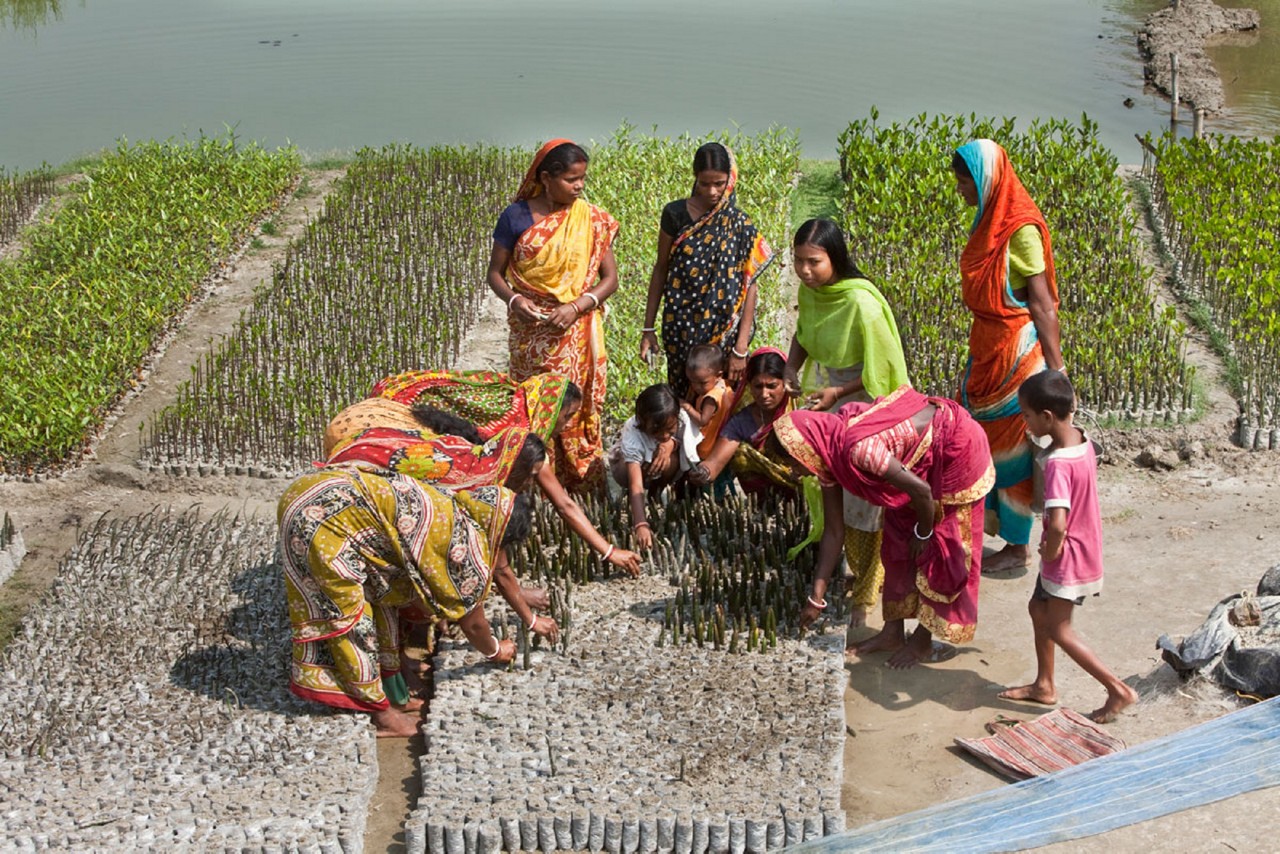 The Indian Foundation Nature Environment and Wildlife Society (NEWS) and Livelihoods are working with the local communities of the Sundarbans to restore these shrinking mangrove forests. Together, since 2011, we have planted 130 million trees, restored 48,000 ha, equipped 120,000 families with efficient cookstoves, and reached over 1 million people. The first Livelihoods Carbon Fund will offset the equivalent of 10 million tons of CO2.
In 2017, we renewed our commitment by investing in the Livelihoods Carbon Fund #2, the Livelihood Fund for Family Farming together with other corporate partners. This fund, with an investment target of 100 million €, aims at improving the lives of 2 million people and at offsetting around 25 million tons of CO2 over a 20-year span.