Sourcing for One Planet. One Health
At Danone, we believe that through what and how we source, we shape the world we want to live in.
In many ways our One Planet.One Health frame of action starts there. This is why our Cycles & Procurement teams are working hand in hand with suppliers - producers and farmers - to ensure that our sourcing: regenerates natural resources, nourishes health and well-being, strengthens inclusion in our value chain, and builds trust with consumers.
The way we source has an important impact on nature and people: sourcing of agricultural products accounts for 2/3 of our carbon emissions and 89% of our water use. And Danone has around 100,000 employees, but by some estimates, for every employee there are at least 7 people in our value chain, working for us but not directly employed by Danone. 
Sourcing is also fundamental to helping consumers understand how our ingredients are produced, and to empowering them to vote for the world they want each time they eat and drink. By embracing transparency and also sourcing key ingredients locally, we can drive consumer engagement and trust.
HOW WE WORK WITH SUPPLIERS?
Our suppliers are our leading partners to make sourcing for One Planet.One Health a reality. We are part of the same natural and business ecosystem, meaning we share many of the same challenges and must co-build the solutions.
As a foundation, all of our suppliers are required to adhere to Danone's Sustainability Principles for Business Partners. But they are invited to go further, to co-create solutions that deliver on our vision. We believe joint innovation and problem-solving is a 'win-win' for Danone and suppliers, and the key to sourcing in a way that's good for consumers and for society. We aim to leverage frameworks like B Corp, Science Based Targets initiative, and CDP to engage suppliers on this journey.
1 - Sourcing to regenerate: our ambition for One Planet 
As a food and beverage company, our business depends on natural resources, and their ability to be protected and renewed. This is why as early as 2017 Danone decided to structure its procurement teams around three strategic resource cycles: agriculture, water and packaging. With this cycles approach, we aim to:  
Source ingredients from regenerative agriculture
We believe regenerative farming practices are a solution to a number of challenges we face, including climate change, water scarcity and biodiversity loss. For Danone, regenerative agriculture is about three things:
Restoring soil so that it can draw carbon from the atmosphere, strengthen biodiversity and retain more water. 

Empowering the next generation of farmers by ensuring regenerative agriculture models are economically viable, and protecting human rights and safety of workers.  


Strengthening the welfare of animals, which have a fundamental role to play in healthy ecosystems.
Over the years Danone has maintained a direct relationship with more than 58,000 farms, and is partnering with agriculture ingredients suppliers to transition farming practices in markets across the world.
Danone brands are leading this transformation, supporting farmers and engaging consumers in the regenerative agriculture movement. Take Blédina, which invites consumers to visit farms where their ingredients are grown to see how biodiversity on our farms brings biodiversity on our plates.

Protecting and restoring natural ecosystems 
Through our sourcing, we aim to protect and restore natural ecosystems that are 'high-value', namely forests and watersheds.
Danone is committed to delivering verified deforestation and conversion-free supply chains* across five priority commodities by 2025 and moving to a forest-positive future. 
* As defined by the Accountability Framework Initiative
Our strategy to achieve this includes:
Clean Supply Chains by 2025: Our supply chains will be fully traceable and verified deforestation- and conversion-free (for in scope commodities). For instance, we aim to achieve 100% RSPO Segregated or independent smallholder credits for palm oil; 100% recycled or certified virgin paper (FSC, PEFC or SFI for North America); 100% traceable to farm for all cocoa.
Responsible Suppliers by 2025: We will have cascaded Deforestation- and Conversion-Free commitments in line with our cut-off dates through our direct supply chain. The suppliers we source from will share and meet our commitments across their entire operations, not just for what they supply to us.
Regeneration by 2030: We will have supported landscape projects that protect and restore vital ecosystems, with a focus where relevant on strengthening farmer livelihoods. Partnerships and coalitions are central to our impact.
We will establish a monitoring, reporting, and verification system, with publicly available indicators of progress, grievances, and the steps taken to correct non-conformances. For instance, by disclosing supply chain details in Forest Policy Update, CDP Forest and Annual Report. 
We will continue to work with our peers and producers to find effective and scalable solutions. These efforts will extend across our sector through the Consumer Goods Forum's Forest Positive Coalition as well as through commodity-specific channels.
Danone is also committed to protecting or restoring watersheds where we operate, particularly if these watersheds are under pressure. To do this, we work to bring all local stakeholders together to put in place integrated watershed management plans focusing on nature-based solutions (agroforestry, wetlands preservation, regenerative agriculture).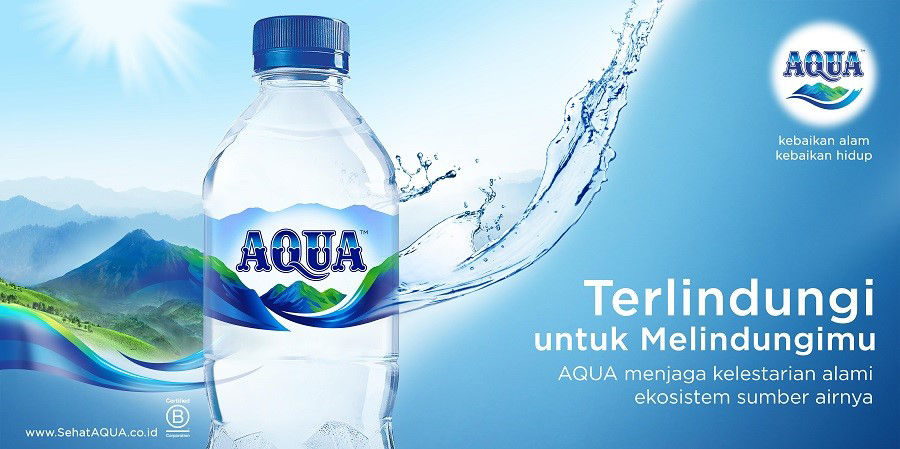 Danone's water brands are leading preservation programs where they operate. These include AQUA brand in Indonesia, which launched the Rejoso Kita project to ensure water protection across 62,000 hectares, by scaling reforestation and sustainable agriculture programs to encourage better soil management, farming practices, and land use. 

Delivering circular packaging solutions
At Danone, we want to offer nutritious, high-quality food and drinks in packaging that is 100% circular, so that materials stay in use and out of nature. We believe that collaboration is the cornerstone of success to enable our packaging transformation, and that suppliers have a fundamental role to play by:
Innovating to optimize packaging design, and provide new material solutions that ensure our packaging is 100% reusable, recyclable or compostable, and decoupled from fossil resources
Engaging with us and other value chain players to co-build effective collection and recycling systems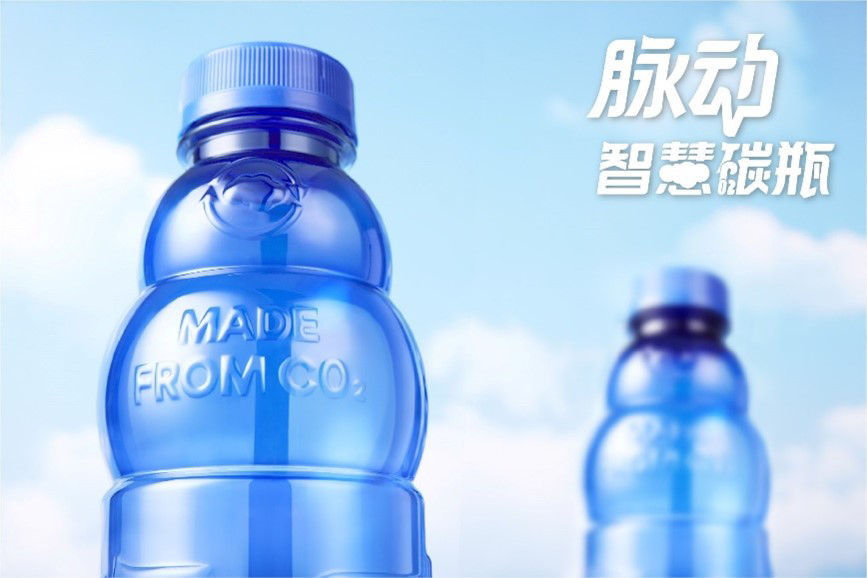 Working with our suppliers, our brands are developing innovative circular solutions, including Mizone's first prototype bottle made using Lanzatech's "carbon capture" technology. 
Power the company's progress towards net zero emissions by 2050
Danone committed to reach net zero emissions across its full value chain by 2050*. All of the sourcing ambitions above are important to achieving this goal.
We believe transparency is critical, which is why we disclose details of GHG emissions from our sourcing and the actions we are taking to reduce them, both in our company reporting and in the CDP. In December 2022, Danone has been awarded AAA status by CDP, for the 4th year in a row, in recognition of our leadership in tackling climate change, fighting deforestation and protecting water cycles.
Supplier engagement is at the core of our approach. We are encouraging our suppliers to join us in the Race to Net Zero, and are collaborating with them using platforms like Cool Farm Tool.
*In 2022, with its 1.5°C reduction targets officially approved by the Science-Based Targets initiative, Danone reaffirmed its commitment to accelerate on its decarbonization journey, covering each and every scope of its direct and indirect emissions. We are also among the first companies to have a specific target on forest, land and agriculture.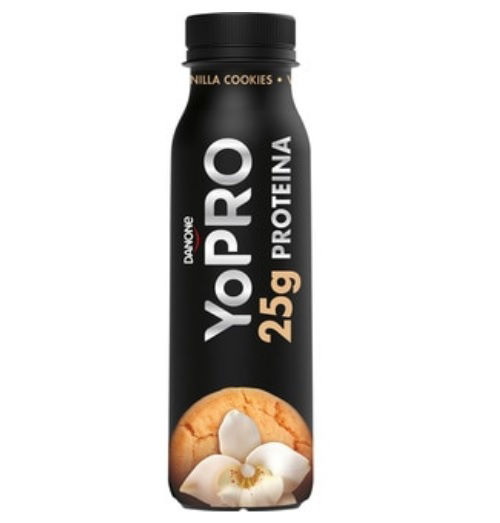 We can optimize the nutritional value of our products through the way our food is grown, and by leveraging technological innovations with our suppliers.
The way our ingredients are sourced at farm level has an impact on their nutritional value. Take grass-feeding cows, which is encouraged under our regenerative agriculture roadmap. This practice has been shown to improve the nutritional profile of the milk produced, through increased amounts of nutrients like omega 3.
By sourcing technological innovations, we can further enhance the nutritional value of our products and optimize the goodness of our raw ingredients. Dairy contains lots of nutrients and vitamins essential for good health. By sourcing ultra-filtered milk, we can improve taste but also make it even more nutritious, increasing protein content while reducing sugars. This has been the secret behind innovative products like Yopro.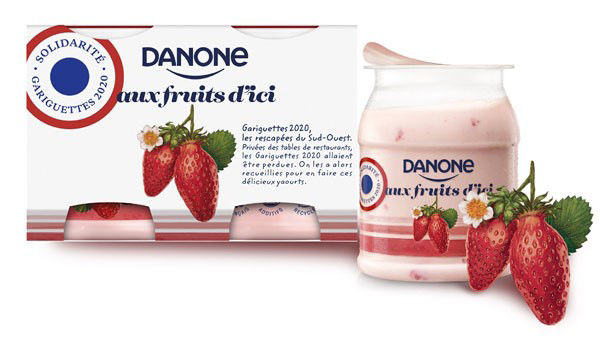 More and more consumers are looking for products with an ingredient list they can understand, often coming from places close to them. Sourcing plays a key role in meeting this demand, in finding solutions that allow us to offer simpler products with natural ingredients. 
For instance, conventional fruit sourcing can strip nutrients and flavor. We are working with suppliers to source mature fruits locally so that no added colors or flavors are needed – this is how we have helped innovate to create new products like Danone aux Fruits d'ici. 
Targeted solutions for health
Sourcing can help us develop solutions that help respond to specific heath needs or challenges. SGM brand in Indonesia is a case in point—the early life nutrition brand has worked to connect its products to public health priorities, sourcing specific formulas, including iron and vitamin C, to address iron deficiencies in infants and help prevent iron-deficiency anemia. 
Protecting the people behind the food
At Danone, we are committed to protecting human rights in our value chain and combatting forced labor. Due diligence – meaning working proactively to understand and minimize risks - is the most powerful tool we have, and we are deploying it within our supply chain through programs like RESPECT, particularly for tier 1 suppliers and high-risk upstream supply chains.
We are also dedicated to fostering inclusive growth in our supply chain – combatting inequities, strengthening livelihoods and decent work. We are working with public authorities, NGOs and business partners, and encourage our suppliers to embark on the same journey with us.  
Empowering the next generation of farmers
We want to empower this new generation of farmers who will feed the world but also regenerate the earth. 
One way we do this is by developing durable relationships with farmers, often over multiple generations. These close relationships, particularly for our dairy farmers, allow us to put into place long-term contracts, and a price management system according to the evolution of production costs rather than the market, giving farmers the stability they need to invest in the future.  
Another way we are working to empower farmers is by supporting them as they transition practices, providing access to skills, technology, and financing. For this we use vehicles like Farming for Generations, the Danone Ecosystem and the Livelihoods Funds.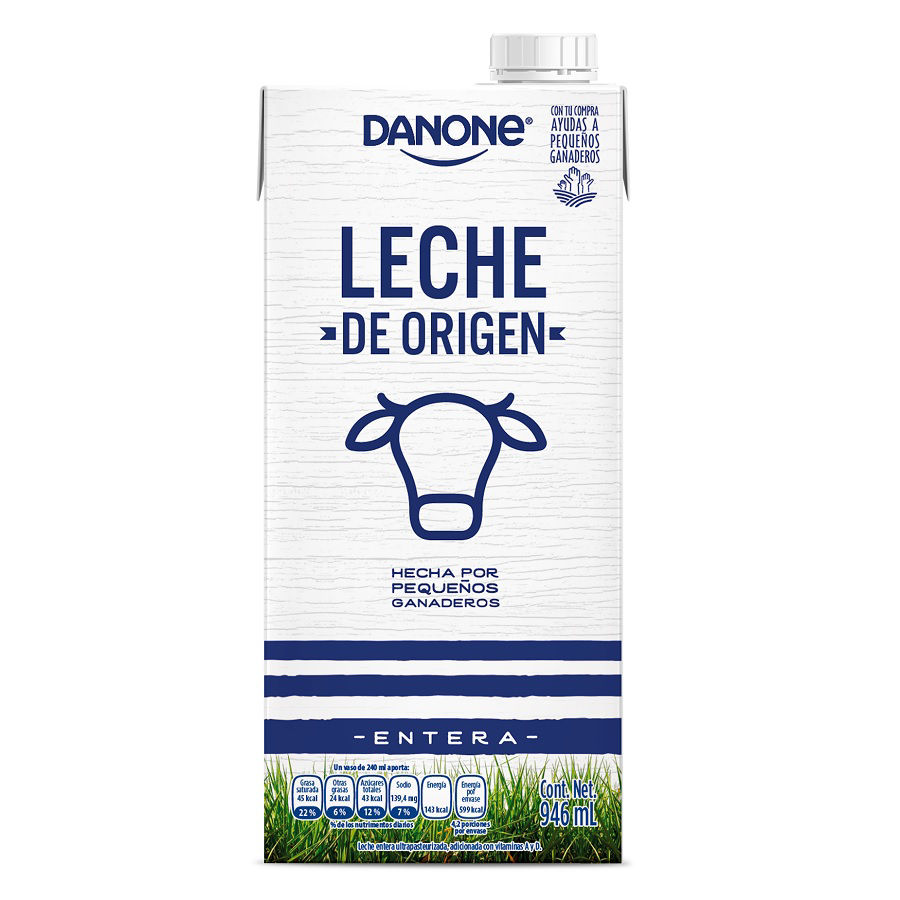 We are particularly proud of the relationship we have with smallholder farmers- about 30% of Danone's total milk volumes are sourced from farmers with less than 10 cows. The inclusive business models we developed have nourished brands like Danone dairy, which launched a Leche de Origen line in Mexico to engage consumers in support of over 500 smallholders.
Building trust with Consumers
Many people want to feel that when they eat and drink, they have a positive impact on the communities around them. In response, we are offering products with locally-sourced ingredients. Today, we source over 90% of fresh milk, and over 50% of plant-based ingredients, locally in the country where the products are sold. We are expanding local sourcing, particularly for plant-based and fruits & vegetables, but also for ingredients like sugarbeet.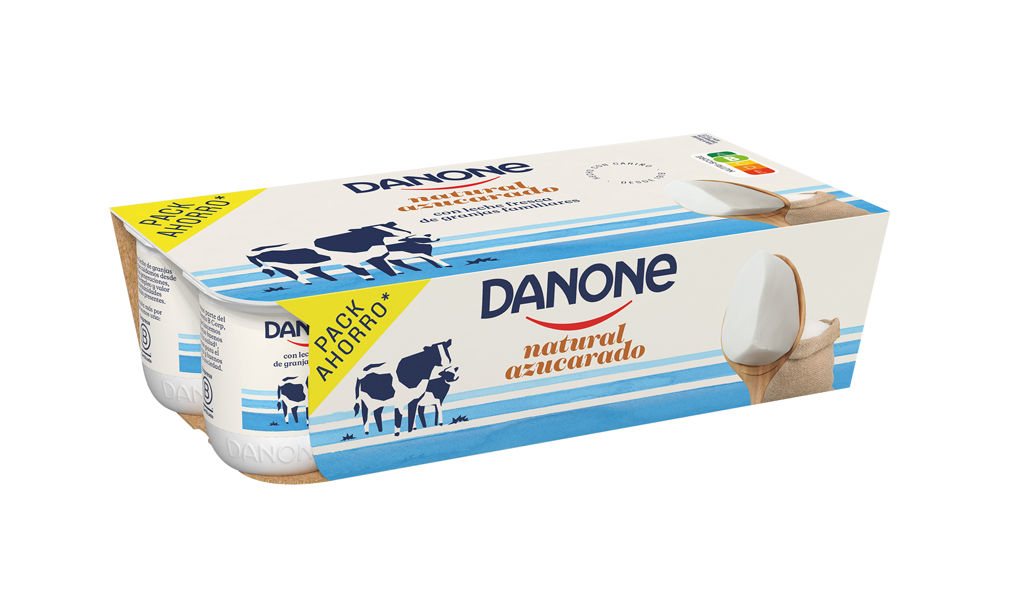 Our local sourcing strategy is strengthening our ability to be transparent with consumers, and to tell them where our ingredients come from, who makes them and how. Brands like Danone in Spain have embraced transparency to build trust, creating a dedicated site where consumers can see where the fresh milk in their yogurt comes from.