EVIAN'S UNIQUE AND PURE NATURAL MINERAL WATER
A 15-YEAR JOURNEY THROUGH THE FRENCH ALPS
evian water starts as rain and snow and infiltrates through the ground of our impluvium before slowly traveling through layers of glacial rocks, where it becomes naturally filtered and enriched with electrolytes and minerals. Nature gives our water everything it needs - we don't add things for taste or enhance with extras.
Alongside partners, evian is taking long-term actions to preserve and protect nature, focusing on three pillars: source protection, packaging and recycling, and climate journey.

evian is very protective of its water and the environment that provides it, and never takes more than nature can provide.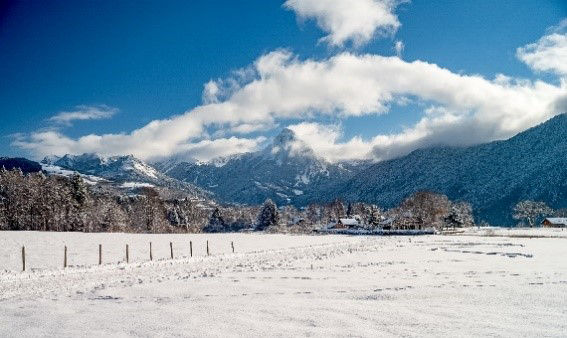 To help us preserve our source and promote sustainable agricultural practices in the Évian-les-Bains area, we co-founded the Association for the Protection of the evian Mineral Water Impluvium (aka APIEME) with 13 other municipalities over 25 years ago.
In 2018, evian pledged to become a circular brand by 2025 and make all of its plastic bottles* from 100% recycled materials (rPET) by 2025. Aligned with Danone's aim to accelerate the transition from a linear to a circular economy of sustainable packaging, the brand is acting to provide evian natural mineral water as responsibly as possible. 

Being the first Danone water brand to introduce rPET in 2008, evian keeps sustainability at the forefront to drive its innovations. After launching evian (re)new in 2019 – a collapsible bubble dispenser that contains 66% less plastic than a typical 1.5L water bottle** – the brand made significant steps forward in 2020. 
In July, evian introduced its first label-free, 100% recyclable and 100% recycled bottle***. 
The brand also expanded its 100% rPET* range in September with new 'Bottle made from bottles' in France, Belgium, Germany, Switzerland and the United Kingdom.
All evian products are designed to bring you natural mineral water straight from the French Alps, so you can enjoy the distinctive cool, crisp taste of evian anytime, anywhere.

(1) Standard range of 50 cl recycled bottles
(2) First bottle without label, 100% recycled material (rPET)
(3) First bottle without label, 100% recycled material (rPET)
(4) Evian (re) new, eco-conscious innovation range Horizon 2025
(5) Evian (re) new, eco-conscious innovation range Horizon 2025
(6) Standard range recycled bottle 75 cl, equipped with a sport cap
The French Alps made evian water naturally hydrating, the world made evian water culturally iconic.

1789 wasn't just any year, it was the most important year in evian water history: the year our natural mineral water source was found by a local French nobleman, the Marquis de Lessert, in the town of Évian-les-Bains.  
"WE OWE EVERYTHING TO NATURE, BOTH AS A SOCIETY AND AS A BRAND. WITHOUT IT, WE SIMPLY WOULDN'T EXIST. IT'S A PRIORITY FOR US AT EVIAN TO BE MORE SUSTAINABLE AS WE ADAPT TO TACKLE ENVIRONMENTAL ISSUES ON A GLOBAL SCALE, WITH INNOVATIONS LYING AT THE HEART OF OUR APPROACH TO BECOMING FULLY CIRCULAR BY 2025" 
- SHWETA HARIT -