Circular economy
of packaging
At Danone, we want to offer nutritious, high-quality food and drinks in packaging that is 100% circular, keeping materials in use and out of nature
Packaging is fundamental to our ability to provide people around the world with nutritious, high-quality food and drinks – but we recognize that this cannot come at the expense of the environment. Today's mainstream packaging system is unsustainable because it is still primarily linear—raw materials are used to make packaging for a product, and after the product is consumed, the packaging is thrown away. This model is creating important challenges, particularly where plastics are concerned.
As a company committed to protecting and nourishing the health of the planet and people, we want to play our part to accelerate the transition from a linear to a circular economy of packaging.
We aim to make our packaging 100% circular. This means eliminating the packaging we don't need; innovating so all the packaging we do need is designed to be safely reused, recycled or composted; and ensuring the material we produce stays in the economy and never becomes waste or pollution.
I. PACKAGING DESIGNED FOR CIRCULARITY
WHERE WE ARE TODAY
As of 2017, 86% of our total packaging (and 77% of our plastic packaging) is reusable, recyclable, or compostable, and over 50% of our water volumes are sold in reusable jugs. We have ongoing initiatives to implement eco-design principles for packaging, like evian's pilot program to eliminate non-recyclable shrink film by using specially designed adhesive and tape handles in order to keep water bottles together.

WHERE WE'RE GOING
Our goal for 2025 is for every piece of packaging—from bottle caps to yogurt cups—to be reusable, recyclable, or compostable.
At the same time, we are working to design our products to optimize material use and eliminate waste. This means developing new alternative delivery or reuse models, while also taking action to eliminate items that are problematic (in that they are unlikely to be recycled) or unnecessary (in that they do not bring additional value to the product or its protection). To this end, we are planning to introduce alternatives to plastic straws, which we will pilot with our Indonesian brand AQUA in 2019.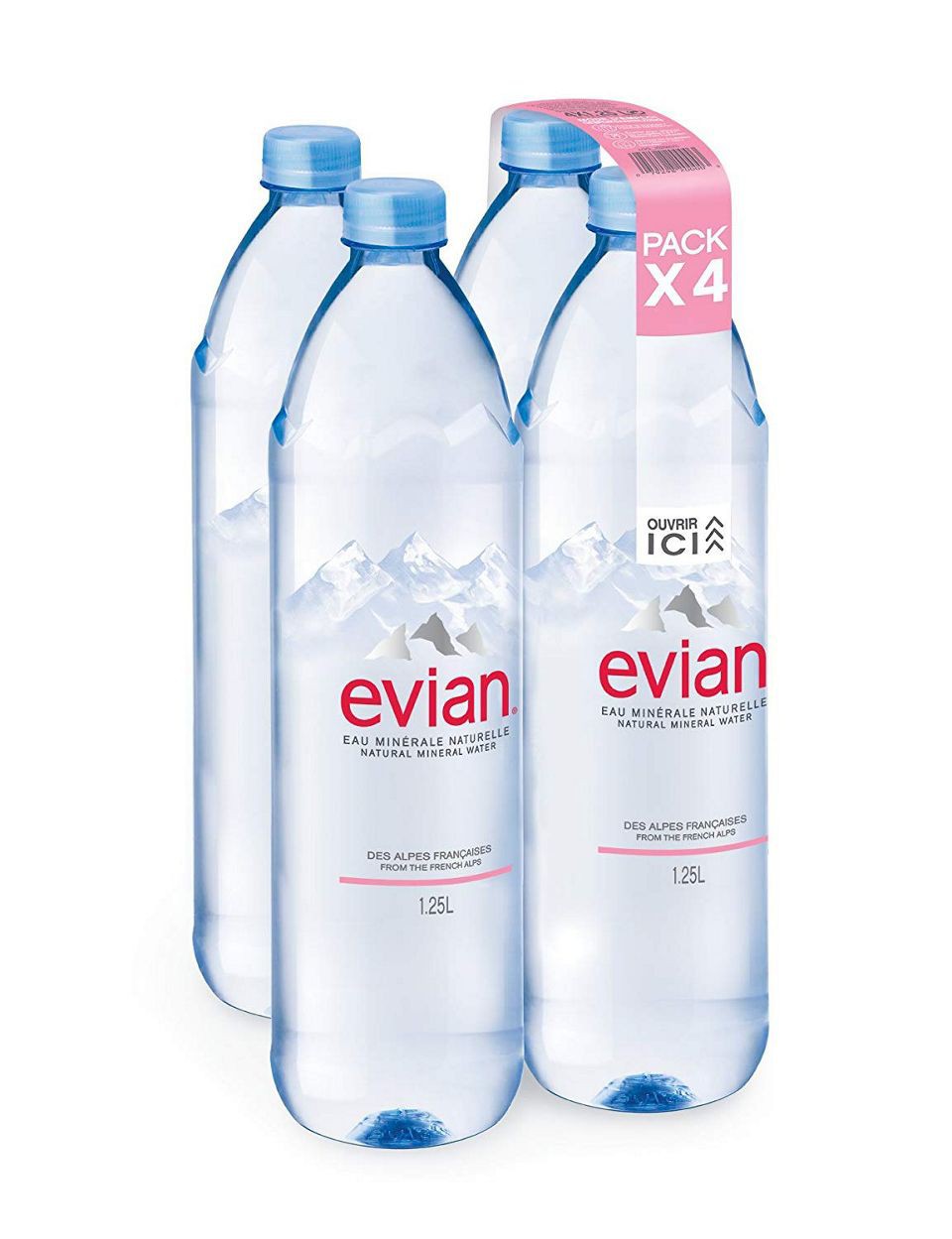 II. RECYCLED, REUSED, OR COMPOSTED IN PRACTICE
Redesigning packaging for circularity won't do much good if the waste management systems aren't in place to ensure it is recycled, reused or composted in practice. That's way Danone is committed to help build effective, efficient and inclusive systems for collection, reuse and recycling.
WHERE WE ARE TODAY
Today, we systematically look to collaborate with public authorities and private companies to optimize formal Extended Producer Responsibility (EPR) and Deposit Return Scheme (DRS) systems. In fact, Danone helped pioneer the concept of EPR in France with the founding of Eco-Emballages (today known as CITEO).
In countries where collection systems for recycling are informal, we work with local communities governments and partners like the Inter-American Development Bank to improve standards for waste collection and invest in recycling infrastructure. Danone and the Danone Ecosystem Fund have launched projects to support waste pickers in 7 countries, including by ensuring they work in a safe environment, are paid appropriate wages and afforded greater social protection. As of 2018, close to 6,000 waste pickers have been professionally empowered, and more than 45,000 tons of waste are recycled each year through these projects.
Finally, our brands have been working to engage consumers in the circular economy and support cutting edge research innovation. For instance, evian® is taking part in a research mission with The Ocean Cleanup, a Dutch non-profit start up that has developed scalable advanced technologies to help rid the oceans of plastic, while Danone AQUA has pledged to recover more plastic than it uses in Indonesia, including through interception of marine littering.
WHERE WE'RE GOING
To further, we will actively help to meet or go beyond collection targets set by regulators, like the EU's expected 2025 target of 90% collection for beverage bottles. To do this, we will support the most effective publicly organized systems, including Extended Producer Responsibility and Deposit Return Schemes.
We will also be stepping up investments in private initiatives that strengthen circular infrastructure, especially in countries that lack formal collection systems or where there is a high risk of leakage of plastic waste into the environment. We have invested over $5 million in the Closed Loop Fund, which develops large scale recycling infrastructure in the United States, and are looking to invest in similar initiatives, such as Circulate Capital in Southeast Asia.
By 2025, we will have initiated or supported initiatives collection and recycling initiatives in every one of our top 20 markets, representing around 90% of sales.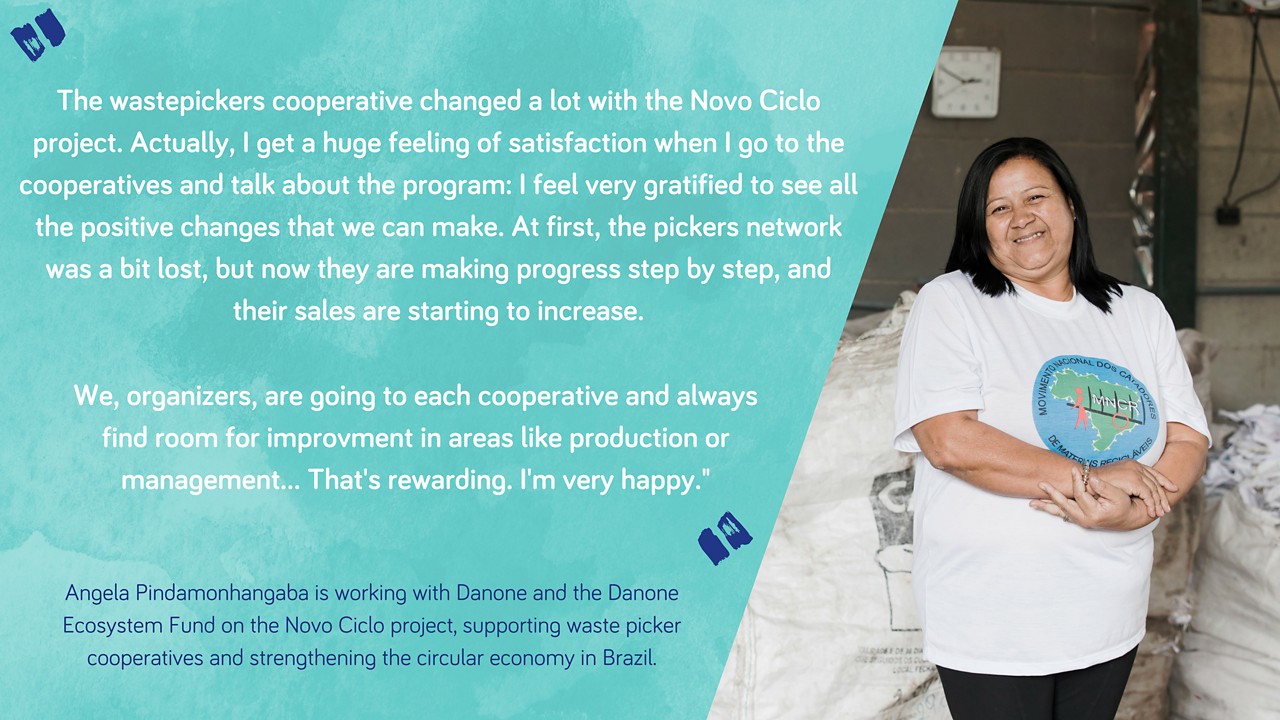 III. PRESERVATION OF NATURAL RESOURCES
Transitioning to a circular economy means seeking to no longer use packaging from finite resources. This helps preserve natural resources and keep existing materials in use and out of nature. To reduce the need for newly created material, we are working to increase recycled content. We are also developing renewable materials that further decouple packaging from natural resource use.
WHERE WE ARE TODAY
In 2017, we reached 36% recycled content on average in our packaging, including 14% recycled PET in our water and beverage bottles.
We are investing in the development and use of renewable, bio-based materials to speed up the transition away from fossil fuel plastics. Danone partnered with Nestlé Waters, PepsiCo, and Origin Materials, through the NaturAll Bottle Alliance, to introduce the first 75% bio-based bottle at commercial scale by 2021.
WHERE WE'RE GOING
We intend to drastically expand the amount of recycled and bio-plastic used in our packaging. By 2021, we will launch 100% recycled PET bottles in all our major water markets. By 2025, we will reach 25% of recycled material on average in our plastic packaging; 50% on average for our water and beverage bottles; and 100% for evian bottles. We will also aim to offer consumers bottles made from 100% bioplastic.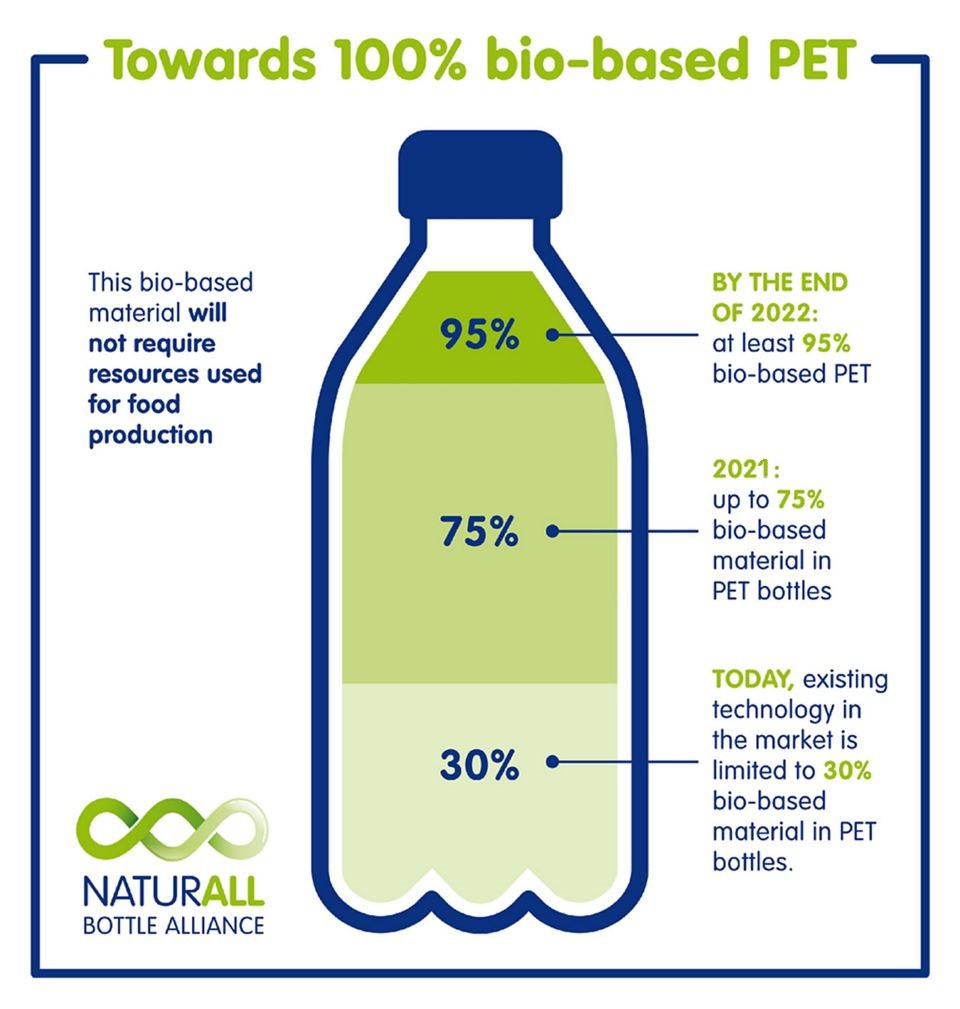 Our strategy to transition towards a circular economy of packaging will continue to evolve as we build greater collaboration, harness innovative technologies and invest in new solutions.

For more information on our circular packaging strategy, please see our updated packaging policy.