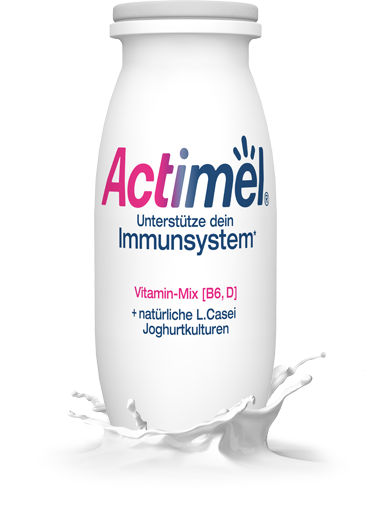 Actimel is a delicious yogurt shot that is rich in vitamin D, a source of vitamin B6, and contains billions of L.Casei ferments.
At Actimel, we believe that a supported immune system is essential to take on the day. That's why our mighty little shots are crammed with ingredients* that support the immune system, available in a variety of ranges and tasty flavors for you to choose from.
Different kinds of immune support for everyone
We're committed to supporting everyone's immune systems, kids, adults, you name it! We've also made sure that Actimel can be enjoyed by our friends with flexitarian or plant-based diets.**
Actimel, your immune support ally for a good start of the day!
**Range available in the United-Kingdom.
Actimel's story began in the '90s. It all started with an idea. Let's take the goodness of yogurt and take it up a notch. Our expert scientists were devoted to finding a blend that provides immune support and tastiness all in one. Boom, the first Actimel was born in Belgium in 1994. Since then, Actimel has traveled the world, now present in more than 35 countries.
But that's not all. Our recipe has evolved over the years. Starting from a 72-hour fermentation process to ensure the development of L.Casei ferments, an essential ingredient that makes Actimel, Actimel. Then, we added immune-supporting vitamins*, making our products rich in Vitamin D and a source of Vitamin B6. That means you get 33% of your daily recommended intake in vitamin D and 15% of your daily recommended intake in Vitamin B6.
We don't want to stop there, though. We've come a long way since the '90s, and there's more to come in the future. Stay tuned.
*Vitamins D & B6 support the normal function of the immune system
Why do you drink Actimel? Drink it for the vitamins D & B6 that support the normal function of the immune system. Drink it for the L.Casei Ferments. Drink it for the immune support.