Danone's strategic plan, "Renew Danone", aims to restore growth and drive value creation, reconnecting the business with a sustainable, profitable growth model.
A journey of renewal
Danone is a one-of-a-kind company, with a unique heritage and culture, where purpose and performance go hand in hand.  
Danone's CEO, Antoine de Saint-Affrique, and the Executive Committee, have built a plan – "Renew Danone" – that will drive performance and growth, to consistently deliver value for all.
What will our actions be?
Embracing our strengths

The categories where Danone operates are healthy, on-trend and growing. We are #1 in dairy, #1 in plant-based and #2 in infant nutrition. We have iconic local and global brands and have led the way in many fields.
Our products have an ATNI score of 90% - meaning 90% of our products are considered healthy for daily consumption.
We nurture iconic brands that people all around the world love and enjoy every day – from Actimel and Aptamil to Activia and evian.
Resetting our company
We have solid assets, strong sustainability credentials, broad geographic exposure and deep R&D expertise – but these need to be leveraged better.
To do that, we need a reset at all levels: culturally, financially and executionally.
Moving to the front foot
Across our categories, first we must fix underperformance, progressively moving towards overperforming, while also seeding the future of the company. 
Only then will we be able to accelerate.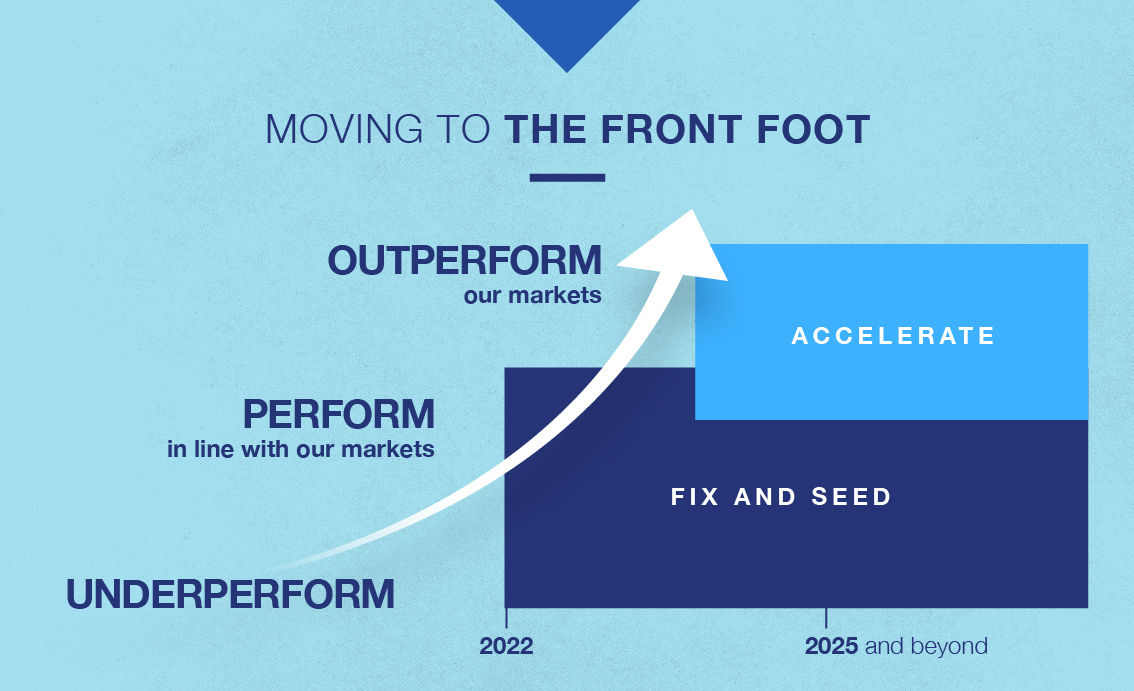 How will we put in place this new strategy?
Four strategic pillars

"Renew Danone" is underpinned by four strategic pillars:
Win where we are - restoration of Danone's competitiveness in core categories and geographies
Expand where we should be - selective expansion of Danone's presence, in terms of segments, channels and geographies
Seed the future - active seeding of future growth avenues
Manage our portfolio - active portfolio rotation
These pillars will be supported by four key enablers: culture, capabilities, sustainability and cost competitiveness.
To conclude on Renew Danone
Through this plan we will renew Danone's momentum and – together with our 100, 000 Danoners – create the conditions for sustainable and competitive growth.
Danone has always been a story of pioneers and innovators, and our mission – to bring health through food to as many people as possible is as relevant as ever before.
Our new plan will help us navigate the road ahead and secure our goal to become an outperformer across our categories and brands, delivering sustainable returns to shareholders and creating long-term value for all.