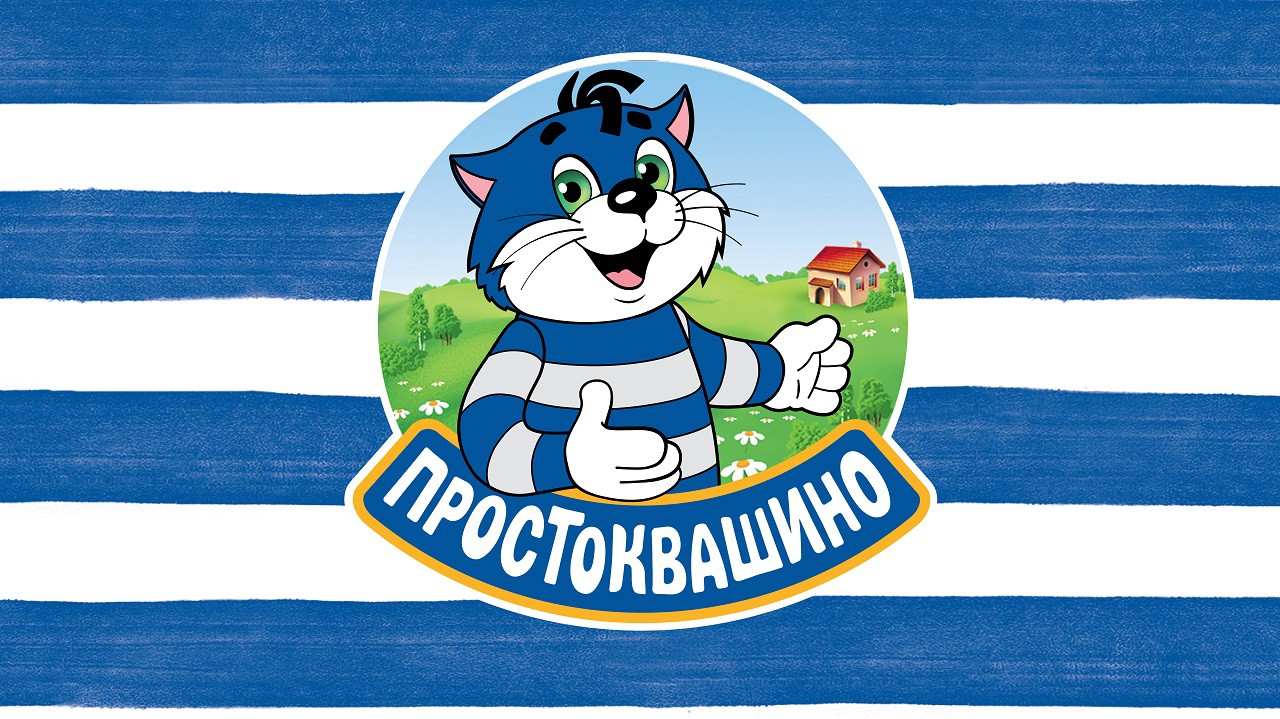 Almost 100% of Russian consumers know Prostokvashino brand.2
75% of Russian households consume Prostokvashino products.3
On average 30 000 000 Milk packs are sold every month in Russia.4
PROSTOKVASHINO PRODUCTS ARE PRODUCED AT 9 PLANTS ALL OVER THE COUNTRY. MILK ARRIVES FROM 126 SELECTED FARMS WITH ABOUT 153,000 COWS.
PROSTOKVASHINO OWES ITS STRONG HERITAGE TO THE SAME-NAME SOVIET BOOK AND CARTOON RELEASED IN 1970S, WHICH IS STILL AMONG MOST POPULAR SOVIET CARTOONS IN RUSSIA WATCHED BY PEOPLE OF ALL AGES.
Prostokvashino became a cultural icon for kids and adults in Russia.
Prostokvashino characters could be found almost everywhere in Russia : kids games and toys, clothes and kitchenware, etc.
The cartoon was sorted out into quotes and memes which are still up-to-date.
The are even monuments with cartoon characters in 5 cities in Russia.
Prostokvashino is a Quality icon

100% natural milk
All dairy products start with milk. Prostokvashino cares about naturality and quality of milk and controls it from the farm to the plant.
Strict control for antibiotics
Each batch of milk at the plant is tested for antibiotics.
No preservatives
Preservatives that extend shelf life of the product are simply not needed due to strict compliance with high standards of production and modern manufacturing process.
No vegetable fats
Products are made from milk and cream.
Always a great taste
Prostokvashino pays special attention to the taste of its milk* and checks it with professional tasters at the factory.
* Pasteurized Prostokvashino «Selected» milk 930 ml, 2.5% 930 ml and 1.5% 930 ml.
PROSTOKVASHINO BRINGS A HAPPY SPIRIT AND TRUST EVERY DAY TO EVERY HOME

Prostokvashino stays constant in the most important thing: bringing health to russian families providing high quality products and positive spirit of the cartoon characters who look at everything with optimism and humor in «the prostokvashino way».

PROSTOKVASHINO IS PRESENT IN ALL TRADITIONAL DAIRY PRODUCT CATEGORIES IN RUSSIA

1. Prostokvashino ranks first in the dairy products market in terms of money and volume in the period November 2013-2016. Calculations of "Danone Industria" LLC are based partially on data from Nielsen retail audit reports for the period November 2013 – November 2016 for the dairy products market in the Russian Federation. Valid for 14.02.2017 (©2017, "A.C. NIELSEN" LLC).
2. 99,9% of respondents claim that they know Prostokvashino brand with the prompt according to the data of quantitative marketing research provided by Millward Brown ARMI-Marketing LLC, conducted in February 2017-February 2018 among 4200 dairy consumers in Russian Federation (cities with population 100.000+).
3. 75% of Russian households purchased products of "Prostokvashino" brand according to the results of the study by LLC "GfK-Rus" (OGRN 1027739386949) focused on purchases of Russian households in the period between 31.12.2015 and 30.11.2016, sample size: 10000 Russian households".
4. Internal data for the year 2017.