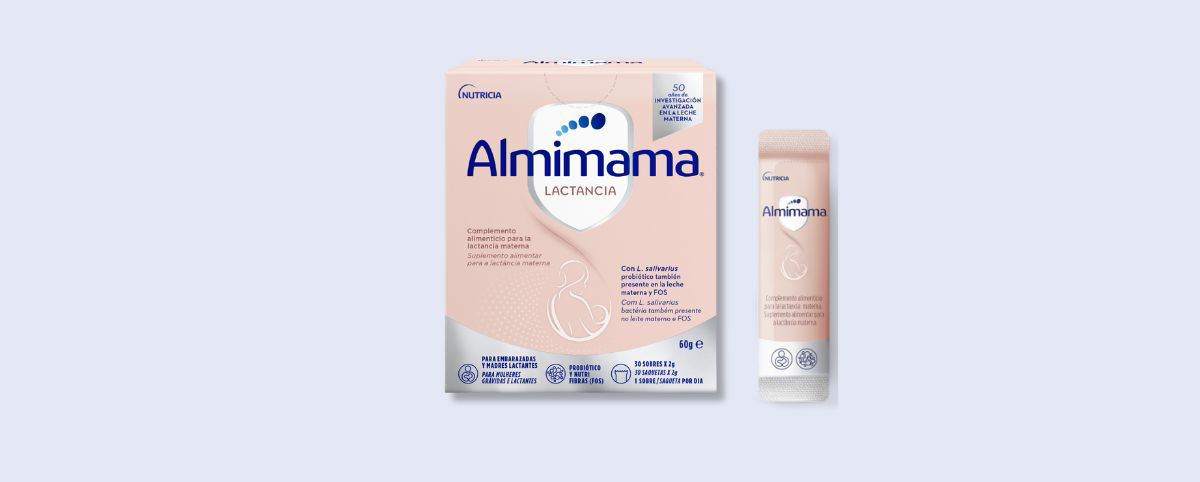 Mastitis, which affects approximately 1 out of 4 breastfeeding mothers1, is considered one of the leading causes of an early and unwanted end to breastfeeding2
Danone's new probiotic supplement, Almimama, now launched in Spain, can support breastfeeding by helping to reduce the incidence of mastitis, according to findings from a clinical study
Despite the well-established benefits of breastfeeding for the health of both mother and baby, only 48% of babies under 6 months of age are exclusively breastfed3
Danone has used its expertise in breastmilk research and breastfeeding to develop Almimama, a probiotic supplement that can help reduce the incidence of mastitis. Affecting approximately one in four mothers1, mastitis (inflammation in the breast) causes flu-like symptoms and breast pain, as well as skin rashes, fever and breast engorgement.
Breastmilk is widely recognized as nature's most powerful nutrition and tailormade for a baby's needs, providing many short- and long-term benefits for both babies and mothers. Despite these benefits, only 48% of babies under six months of age are exclusively breastfed3.
Research has shown complications like mastitis are one of the key barriers to continue breastfeeding4. Research has shown probiotic supplementation during late pregnancy and in the early stages of breastfeeding reduces the incidence of mastitis2,5. Probiotics or ''good bacteria'' are live microorganisms that, when administered in adequate amounts, bring a health benefit to the people consuming them. Almimama is the only synbiotic supplement for pregnant or lactating mothers that combines the probiotic strain L. salivarius PS2 with fructo-oligosaccharides (FOS).
1 Wilson, E.; Woodd, S.L.; Benova, L. Incidence of and Risk Factors for Lactational Mastitis: A Systematic Review. J. Hum. Lact. 2020, 36, 673–686. [CrossRef]
2 Jiménez E, Manzano S, Schlembach D, Arciszewski K, Martin R, Ben Amor K, Roelofs M, Knol J, Rodríguez JM, AbouDakn M, Premium Study Group. Ligilactobacillus salivarius PS2 Supplementation during Pregnancy and Lactation Prevents Mastitis: A Randomised Controlled Trial. Microorganisms. 2021.
3 UNICEF. Too few children benefit from recommended breastfeeding practices. Available at: https://data.unicef.org/topic/nutrition/breastfeeding/#:~:text=Yet%20despite%20all%20the%20potential,age%20worldwide%20are%20exclusively%20breastfed. 
4 Pevzner M, Dahan A. Mastitis While Breastfeeding: Prevention, the Importance of Proper Treatment, and Potential Complications. J Clin Med. 2020 Jul 22;9(8):2328. 
5 Fernández L, Cárdenas N, Arroyo R, Manzano S, Jiménez E, Martín V, Rodríguez JM. Prevention of Infectious Mastitis by Oral Administration of Lactobacillus salivarius PS2 During Late Pregnancy. Clin Infect Dis. 2016;62(5):568-73