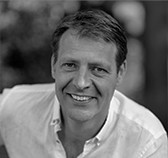 Floris Wesseling
President Europe *
President Europe* 
Currently SVP, Essential Dairy & Plant Based Europe and Zone    Study Leader Europe
Personal background – experience and expertise
Of Dutch nationality, Floris was born in 1971 in France and graduated from the University of Amsterdam with a Master in Law.  After finishing his law degree, Floris chose for an international trajectory in the consumer goods industry, pursuing a business career in a space he developed a passion for.

He started his career in 1996 in Vietnam in a business development role for the East Asiatic Company, then returned to Europe to work for United Biscuits in various marketing and sales roles.

Floris joined Danone in 2000 in the Netherlands as Sales Director of the Dairy business unit. Throughout his 20 years in the company, he assumed leading roles across various categories and geographies, amongst them General Manager in Switzerland (Dairy) in 2006, General Manager in Egypt in 2009 and General Manager in China (Waters) in 2013. 

In 2015, he was promoted Regional Vice-President, Waters Asia Pacific and Middle East and in 2017 he extended his scope to the Essential Dairy & Plant Based category and was appointed SVP, Waters & EDP ASPAME & Greater China.

Since July 2019, Floris is Senior Vice-President, Essential Dairy & Plant Based Europe.

Under his leadership the European EDP business stepped up its growth and saw a strong acceleration of the plant-based business. As a strong believer in the circular economy, he paved the way for a shift to a circular business model including major initiatives in pack circularity and the reduction of food waste. 


*Effective at the end of the consultation (mid 2021)